Back Issues
ePublish Yourself! Magazine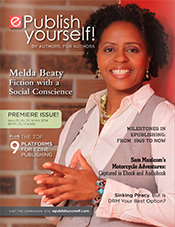 January, 2014
In this premiere issue:
» Interview with author/playwright Melda Beaty
» Interview with author and adventurer Sam Manicom
» Top nine e-zine platforms compared
» Sinking Piracy: But is DRM your best option?
» Milestones of ePublishing: A graphical timeline
» Amazon Kinde Direct Publishing Quickstart Guide
» News, intelligence, and more…
Recent Articles on this Site
Learn from the top thought leaders in the industry.
We're in the midst of a hosting change and domain re-registration. At the end of this process, you'll be able to reach ePublish Yourself! content at .us, .com, .org, and .net sites. In the meantime, we invite you to access the latest content at...